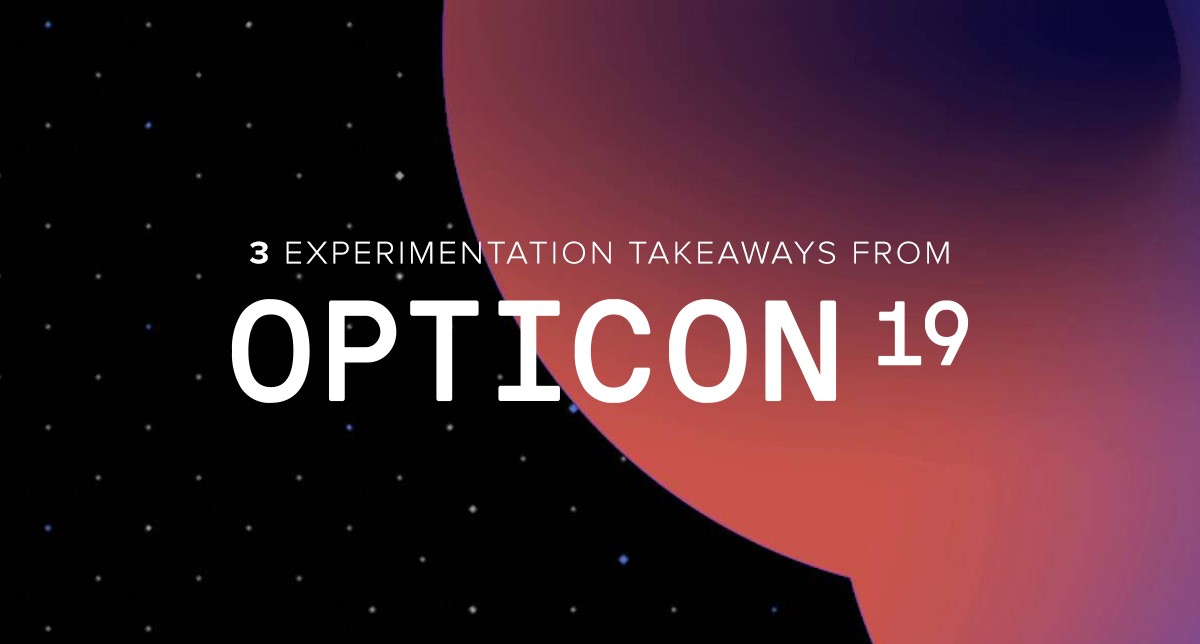 3 experimentation takeaways from OPTICON19
This month I was in San Francisco to catch the Optimizely OPTICON19, a three-day event that looks at experimentation from these perspectives: culture and growth, strategy and process, and platform and technology.
It was interesting to see how experimentation is being applied in the US –
whether Australia is likely to follow directly in its footsteps is yet to be seen so it's not quite a crystal ball conference but there were a few takeaways I'd like to share.
The shift away from marketing
A few years ago if you wanted to sell experimentation software (or services) you would talk to the head of marketing and try to sell it into the marketing department. The whole proposition was around making the process of using marketing technology simple so they wouldn't need to involve tech people.
In many ways it's easier to explain the benefits of experimentation to a marketing person because there's a clear way to measure its effectiveness; for example, they can run a test to see what performs better in terms of customer acquisition or sales.
At Opticon19, the focus was very much on communicating to the product team and winning the heart and mind of the product manager. The shift means customer experience and product managers are the key buyers, which opens the door to a different market. As a result we're bound to see experimentation less as a marketing acquisition tool and increase in use in the product channel.
Where there's experimentation there's growth
The last decade has seen a lot of disruption and 2% of the fastest growing organisations are using experimentation to change and grow. In The Australian Experimentation Maturity Index 2019, we found there were plenty of businesses using experimentation for acquisition and conversion rate optimisation (CRO). Experimentation not only helps them disrupt the status quo by finding new ways of doing things, having an experimentation mindset and framework allows them to grow quicker than everyone else.
Traditionally we look at experimentation as evolution; part of the way we improve test by test is in an iterative manner. However, these fast-growing organisations use experimentation to find new product ideas, new ways of approaching things and new types of customers that makes their speed of change revolutionary rather than evolutionary.
And it's not just new businesses that are benefiting from this; I heard a lady from HP say that rather than breaking down silos, they are keeping silos to create the right environment to revolutionise. These are companies that are so big that breaking down the silos actually stifle the ability for revolution. By keeping the silos you can perfect the implementation of experimentation within a micro-environment before taking it out to the wider business.
On creating value
One of the most interesting speakers was Gibson Biddle, the former vice-president of Netflix (and also one of the creators of Tickle Me Elmo), who spoke about creating value for the customer.
His approach was to make Netflix a habit-forming product and the formula he used was 'DHM: Delight customers in Hard-to-copy, Margin-enhancing ways'. A high-margin, unique product would enable the business to create difference that then led to product love. The most challenging part was getting the balance right between delight and margin; you can delight a customer but if it costs a fortune it's not worth it.
Experimentation will show you what 'delights'. One small change that made a difference was changing the 'Netflix recommends' screen after a show to a thumbs up/thumbs down situation where customers could give feedback and then be presented with recommendations.
So there are my three quick takeaways from Opticon19. Overall, I think we'll see a lot more of the North American approach, where the product is the primary face of what you do. That's what Steve Jobs pushed, the concept that the product design is the product marketing.
Will we see the same trends – a movement away from pitching experimentation techniques and tools at marketing towards the product department; experimentation-focused businesses corresponding with the fastest-growing organisations; and use of experimentation to create customer value – in Australia?
Watch this space
and don't forget to listen to our New Republique podcast via iTunes or Spotify – Australia's first podcast dedicated to all things CRO (conversion rate optimisation), experimentation and personalisation.
If you are interested in being a guest or would like to suggest a topic for discussion please get in touch with me by sending me an email at hello@newrepublique.com
About New Republique
New Republique is an award winning, experience optimisation consultancy specialising in brand, user experience design (UX) and conversion rate optimisation (CRO) strategies, to dramatically improve the performance of websites for brands like BMW Australia, Fantastic Furniture, Chemist Warehouse, HSBC, Employsure, General Pants, Bendigo Bank, Kogan, Retail Apparel Group and OFX.
In 2018 New Republique was awarded the Optimizely APAC Agency of the Year.