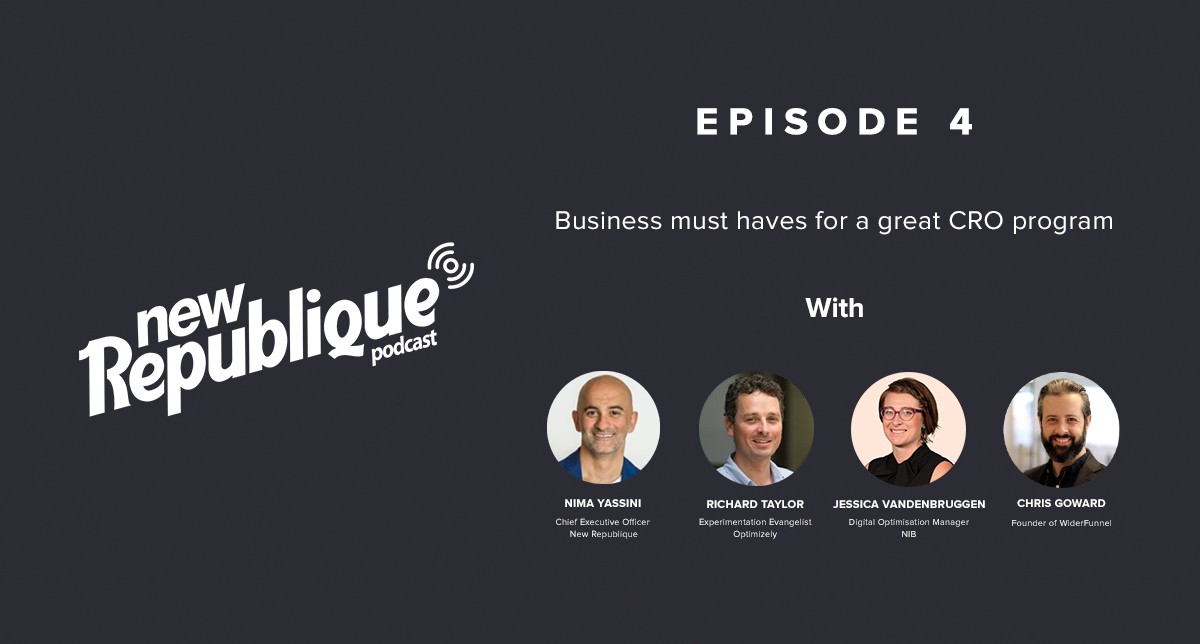 4 ingredients for a successful CRO program
Experimentation is an emerging practice and as a result it's fair to say the idea of 'best practice' constantly evolves as the methods, tools and talent evolve. In many cases organisations know what a good conversion rate optimisation (CRO) program looks like – or at least understand what they can get from it – but the question I'm constantly asked is 'how?': how to set up a successful CRO program?
I asked my co-hosts Richard Taylor (Optimizely) and Jessica Vandenbruggen (nib) and special guest Chris Goward from WiderFunnel in the US three questions:
1.    How do you define a great CRO program?
2.    What do you need to create one?
3.    What are the attributes that makes a really great CRO practitioner?
– and got four ingredients to make a successful CRO program.
1. A great CRO program goes beyond test level
Chris believes there are two ways to look at CRO. The first and most accessible is through metrics, for example "improving efficiency in digital advertising" and "increasing conversion rate on websites". This might develop to more complex goals such as increasing average order value or revenue per visitor, for example, though these are still in the 'metrics' zone.
A truly great CRO program is when it becomes a stepping-stone to an experimentation mindset, says Chris. It's
"….really thinking about: is the goal of the program to improve metrics or is it to improve customer experience? Or, beyond that, is it to answer business questions? I think that shift in mindset is the real first shift in what makes a great program."
An important element of this is continuation. CRO programs shouldn't be an on/off tool but "a constant," says Jess. "An experimentation mindset should be part of the process." At nib, her team is starting to focus on value, "having the quality of our experiments increase as we start to bring in other factors" from how it affects the customer experience to qualitative feedback.
Metrics are essential, says Richard, but it's not just at the test level – measuring the program "looking at the efficiency and the effectiveness of the experimentation program" is also key. These program-level metrics "could cover other areas like quality or agility or proficiency".
2. A great CRO program isn't just its tools
Despite coming from Optimizely, Richard says technology is not the most important part of a CRO program. However, a good tool helps; he recommends one with analytics and heat maps. He says their research showed "if you were using analytics and heat maps, you had a 44% greater likelihood of finding winners".
Beyond that, Jess says both quantitative and qualitative data has been central to nib's maturity and if she had her time again, she would embed that from the beginning. "Every experiment would have been validated using both quant and qual data as a start. I think that would have put us in a better position sooner for building up the experimentation mindset within the business," she says. "And then second to that is having a learnings hub from the get-go… accessible for anyone in the business to use in the decisions that they're making."
And finally, a program is also its people because its people create the culture of experimentation.
3. A great CRO practitioner is supported by a champion
The last two ingredients shouldn't surprise anyone: the two essential people you need to set up a great CRO program is a champion and a practitioner. The biggest issue is that CRO and experimentation is so new to business that there's no 'standard' for what makes a good practitioner.
The first step, however, is having a champion to create buy-in and I've previously written about how to do this here.
"You do need to start with the champion… someone who's willing to be accountable for the program," says Jess. This person doesn't need technological expertise, but it's important they are "a person who lives to learn" and who is "eager to find out why something works and why it doesn't".
The attributes of a good champion? "I have defined them as the intrapreneur," says Chris.
"They're the people within the organisation who are willing to take the responsibility and charge of a risky initiative within the company to create this change. And it takes a little bit of personal risk, but they usually have the credibility within the organisation to do that. And the persistence and the enthusiasm to push something forward."
On the practitioner side, we all tended towards attitude over aptitude. "I can mould and train, but it's hard to change attitude," says Chris. "So I looked for things like curiosity, humility, intelligence, empathy, grit, integrity, those kinds of things."
Resourcefulness is also important, says Richard, because "no one staffs this function like I wish that they would so being able to beg, borrow and steal the necessary time and resources is going to be really important".
You can read more about the 7 habits of highly effective CRO strategists or listen to episode 4 of the New Republique podcast to hear what else makes a great CRO program and team. Available now via iTunes or Spotify
The New Republique Podcast is Australia's first podcast dedicated to all things CRO (conversion rate optimisation), experimentation and personalisation.
If you are interested in being a guest or would like to suggest a topic for discussion please get in touch with me by sending me an email at hello@newrepublique.com