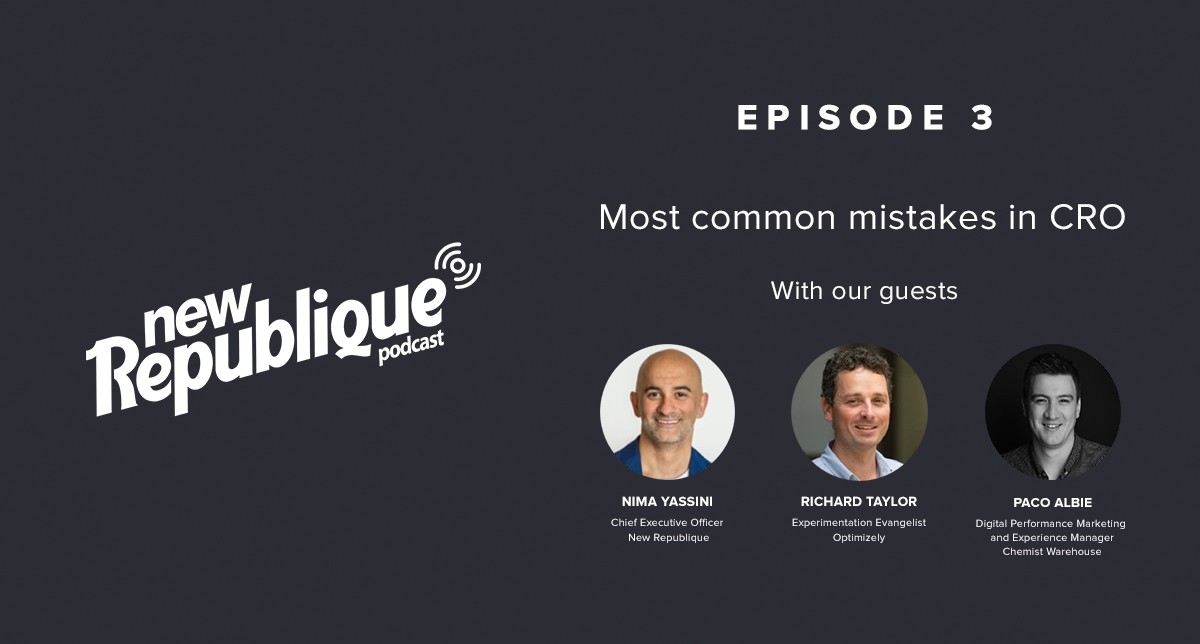 Four common mistakes made when setting up a CRO program
One of the biggest mistakes you can make when you introduce experimentation into a business is not attaining the proper buy-in from the right people. Whether you're selling experimentation for conversion rate optimisation (CRO) or loss aversion, it's essential to get the right people on board to maximise the chances of success.
I've written about buy-in before, but it was great to hear the experiences and insights from my co-host Richard Taylor from Optimizely and guest Paco Albie from Chemist Warehouse.
In our second episode we discussed experimentation maturity outside the marketing suite. It so happens that Paco says the value he was able to sell into the business was reducing risk, that it was sometimes about saying "Look how far down the chain we are in this decision that's been made by someone when we could have tested this way back." In his case, the loss aversion conversation became more powerful than the marketing uplift case. I've also seen this in relation to cost saving.
'Scope it like you mean it'
It's not just the business case that needs everything behind it. Richard brought up a common challenge, which is that businesses often fall into a catch-22 situation where they can't get the resources to do experimentation properly because they have to prove it's worthwhile first but then can't prove it's worthwhile because they haven't got the proper resources.
Richard Taylor from Optimizely says the only way to get around this is to "scope it like you mean it" and ask for everything you need upfront. It doesn't matter if you don't get it – and you probably won't – it matters that you've embedded what's required in the heads of the people who'll be judging whether or not the program is worthwhile.
This means if the program under-delivers because it is under-resourced, you can then make a case for everything you asked for in the first place. "You can then go back and go 'But we weren't doing it right. We didn't disprove experimentation. We actually need resources to make this work properly'," he says.
Getting on board
Something I've started to focus on a lot more is tying in what the board wants into the goal settings I do for clients so I can then see how experimentation fits into their KPIs. When you can integrate a program from the top down like that, you can guarantee buy-in.
Paco says he actually started off on the wrong foot initially and the first experimentation program he attempted wasn't aligned with any of the business' goals and strategies. Fortunately he had the guts to stop everything and start again and now it's all about "pinning [experimentation] relative to other things in the business" and locating the "time, value, money in that proposition," including "helping people mitigate a lot of the risk in what they're doing".
"Get your experimentation program upstream of what's happening in your broader programs, digital executions, what you are deploying, and test it and prove value. And then that'll definitely help get everyone on board," he recommends.
Prepare to fight
Paco also has a rather sneaky way of embedding experimentation in the organisation and that's by starting fights with his workmates. He reckons that if he can get people to disagree enough and then suggest that they duke it out via testing, then experimentation will be the eventual winner because it will be the go-to arbiter of ideas and decisions.
"Challenge everyone. It'll be a tough one for some people. If you're like me and you don't mind throwing your hat in the ring for any sort of fight, you'll be all right with it. But challenge everyone and make sure the outcome is, 'let's test it'." – Paco Albie
Make friends in useful places
On the flipside, Richard says he heard about a program owner in a multi-billion-dollar global retailer do the exact opposite. It's quite common that CRO and experimentation gets 'owned' by a department in the organisation, like marketing, product management or web development. It's also common to get pushback from other parts of the business when the program and experimentation in general gets rolled out. For this retailer, "it was brand, you know, 'it's not on brand, we're not gonna do it'."
So it was then about scratching their back. "The way that they got over that cultural hurdle was to go to brand and say 'what, if anything, have you guys wanted to test out before but haven't been able to?' And then they would help them with a test, show them the results," he reports. "And while doing that [they'd say], 'we also wanted to do this test on this side of the business'. So it became like a give and get between the parts of the organisation that were quite against it."
If you want to learn more about some of the mistakes businesses make when starting their experimentation journey (and how to avoid them) and our tips on getting buy-in, listen in to episode 3 of the New Republique podcast, available now via iTunes or Spotify
The New Republique Podcast is Australia's first podcast dedicated to all things CRO (conversion rate optimisation), experimentation and personalisation.
If you are interested in being a guest or would like to suggest a topic for discussion please get in touch with me by sending me an email at hello@newrepublique.com
About New Republique
New Republique is an award winning, experience optimisation consultancy specialising in brand, user experience design (UX) and conversion rate optimisation (CRO) strategies, to dramatically improve the performance of websites for brands like BMW Australia, Fantastic Furniture, Chemist Warehouse, HSBC, Employsure, General Pants, Bendigo Bank, Kogan, Retail Apparel Group and OFX.
In 2018 New Republique was awarded the Optimizely APAC Agency of the Year.