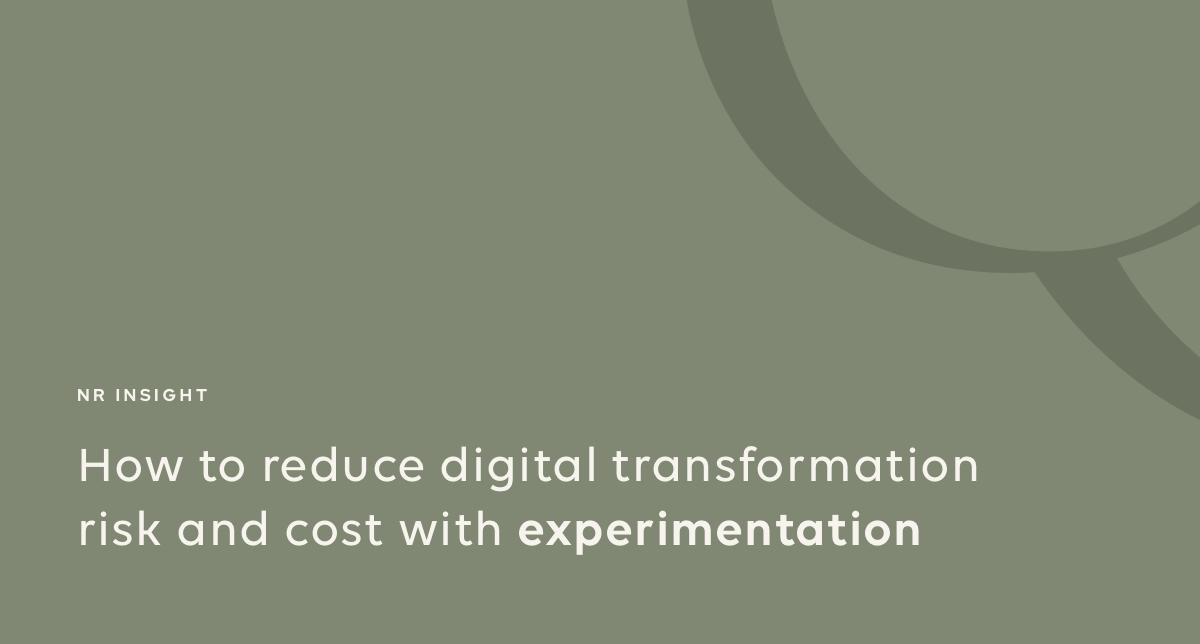 How to reduce the risk and cost of digital transformation.
By Nima Yassini
In the early days of digital transformation projects, companies would stake millions of dollars on a five-year plan that promised to make the organisation future-ready, whether that was installing enterprise software or undertaking a website reconstruction. At the end of the five years – if the project actually ran to its original schedule, which many didn't – what they often launched was something that was already five years out of date.
Fast forward to now and forget five years, just 12 months is a long time in the digital world and it turns out aiming for delayed perfection doesn't even get you 'perfection'.
This project method, where the endpoint is set and the outputs have already been decided, is unsuited to the dynamic rate of change that digital transformation requires. By the time you've surmised what you know or what your challenges are the world has moved on and behaviours have changed.
What a good transformation program does is take into account the changing conditions of the market, validate the data and then steer your decisions in the right direction or throw up additional questions that you can test-and quickly answer in a couple of weeks, the 'test then pivot' method.
Make digital transformation a priority
Fast-paced digital transformation is back at the top of the agenda thanks to the global pandemic.  A report from HLB Global notes that consumer adoption of technology which has bene expedited by anywhere between 5-7 years  is "matched by the accelerated rate of digitisation happening among businesses" causing them to prioritise transformation. "Investments in new digital technologies, previously positioned further down on strategic roadmaps, are now an immediate necessity to maintain robust operations at distance."
But the scramble to digitise only highlights what a poor job businesses have done so far. More than a third (35%) of business leaders who responded to the survey "identified digital capabilities as an area of weakness". The report noted that "given that almost every industry vaulted ahead in terms of digital maturity, reluctance to explore new technologies can increase the market gap between leaders and laggers."
This is supported by global research conducted by CPA Australia, which found that Australian small businesses were the worst in the world at investing in technology and profiting from that investment. Its CEO Andrew Hunter noted: "There is a clear link between innovation and performance. Our survey shows that growing businesses are more likely to use new technologies, e-commerce and social media. These are areas in which Australian small businesses performed poorly."
The gap between fast versus slow growth businesses, the 'digital divide', "will make Australia's road to economic recovery longer and tougher than it needs to be," he said.
Experiment to deliver digital transformation
Ditch the five-year digitisation project. The only way you can keep pace with change is if your transformation is agile. By performing smaller pivots based on testing and learning, you can lower the barrier, risks and costs associated with transformation while identifying and matching shifts in customer behaviour quickly. Experimentation – the process of iteratively testing a hypothesis, validating a position and then making improvements – gives businesses the means to make data-driven decisions, which boosts return on investment and increases confidence in the direction of the transformation.
New Republique's The Pulse Report, based on the Experimentation Maturity Index 2020, indicates that organisations benefit financially from experimentation in a number of ways, with the most mature respondents indicating they increase leads and transactions (88%) as well as reduce the cost of media spend (50%).
The real value, however, is the long-term effects of understanding customer behaviour in order to optimise their experience. More than four in five of our most mature respondents said, 'Experimentation is considered important to transforming the digital customer experience'. Because customer behaviour can change rapidly, as we've seen in the recent response to the pandemic, having immediate use of data and being able to evolve to meet customers where they are is incredibly lucrative.
However, in response to the same question, only 42% of less mature organisations said they use experimentation to transform the digital customer experience. This is the potential gap both HLB and CPA have flagged in their respective reports. With maturity comes the ability to go beyond conversion rate optimisation and A/B testing and see how experimentation can actually change the way you think about customers and design for them.
Your digital transformation is a journey, not a destination, so having a process that anticipates change equips you well to expect the unexpected. Experimentation is a data-driven iterative process that gives you a better picture of what's happening so you can validate your next move. Change and growth is shaped by knowledge, so isn't it time you took stock of what you think you know?