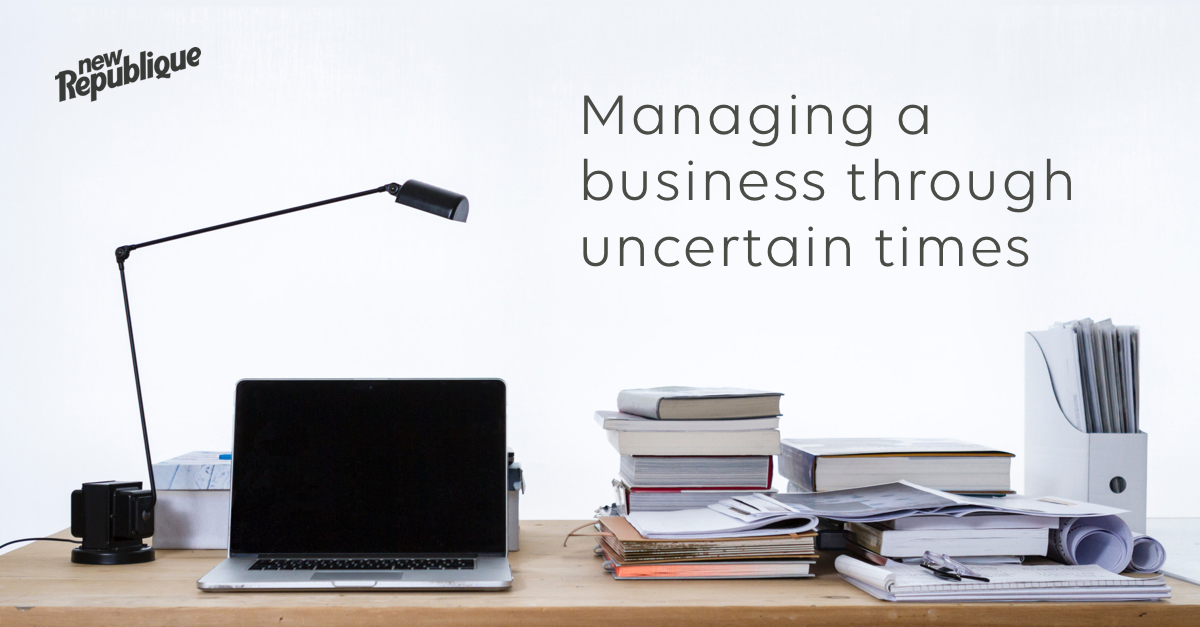 Managing a business through uncertain times
Running a business is a risk which entails not just rewards and opportunities, but uncertainty. It would be unwise to assume that a business goes from strength to strength indefinitely, so having an action plan for a downturn is a good idea. As we have seen with covid-19 'business-as-usual' has simply disappeared, but this doesn't mean you should walk away from the difficult part of management.
We had a situation in 2015 where we had the perfect storm of problems that threatened to destroy our business. In addition to losing our biggest client (60% of our revenue), we lost an investment when we were forced to close our offshore team and did not receive the financial guidance from our accountant that we expected. We reviewed the business to locate both the critical issues and what we required for the business to move forward.
Here's what we learnt about running a business in a downturn.
Evaluate your position
COVID-19 has had an impact on every industry and every business in some way and as we (hopefully) move out of the pandemic now is the time to clarify and evaluate your position. Have you been forced to close? Are you losing leads or clients? Have existing clients put a hold on orders or projects for the meantime? Are overheads continuing to outstrip revenue? Will you need to let go of talent once Jobkeeper comes to an end or are you in a position to hire?
In 2015, our biggest issue was financial, so we looked at reducing costs and increasing revenue. This proved to be incredibly important because it helped direct us to make the right decisions across the board. A few actions that we initiated included:
Trim unnecessary expenses
One of the first and easiest things to do is find out what is essential and what is unnecessary. This unprecedented situation gives you the time and licence to look at where you can reduce operational costs and consolidate debt.
Audit your business and see where you can make the fastest gains. It's amazing how you can have things like redundant software on auto renewal, too many credit cards, unnecessary interest charges or needless spending that flew under the radar when times were better. It's amazed me how far we've been able to strip back overheads and operational expenses during this time and I'll certainly be reviewing our spending when we get back into the office!
Don't be afraid of change and evolution
Many channels previously open to businesses were closed due to the pandemic and as a result we saw businesses either shut or pivot their offer to include things they never imagined would be a reality for their business. Dine-in restaurants have been offering takeaway and delivery, gyms are live-streaming workouts for people to do at home and brands are investing in web chat instead of running a call centre or walk-in storefronts.
In times of change you need to adapt to the world around you, identify and supply what the market demands and recognise that change can be a positive for keeping your business relevant to the times.
Hone your core business
There's nothing like a pandemic to help you realise where your core business is. When we were reshaping our business five years ago, we evaluated where we were making our core revenue and the services we offered that were expensive to run but had little reward. We cut back our service offering to just three core services where we excelled and made the majority of our money. You can read more about the services we provide at New Republique on my cofounder Nima Yassini's profile here.
Specialisation was a game changer to the business. It allowed us to pursue an area of greater demand and focused our expertise, so we were able to become the best in our field. Look for that niche or unique selling point and play to your strengths.
Consolidate your team
A lot of businesses have stood down staff or reduced their hours and that may be necessary for some months to come. However, understand that your business is only as good as the product or service you are selling and that staff are the key players here. Invest in good staff, who are better than you at something, or can cover the areas you can't.
I realised during our 2015 crisis that having a business partner with complementary knowledge not only bridged skills gaps for both of us, it catapulted the business back into success. We now take time to hire the right staff to our core values, and pay close attention to training, culture and retention. If you have great staff it gives you the foundation to scale in the future.
Invest in expertise
Investing in expertise is an 'essential'.
After we'd taken stock of our financials in 2015, I hired a business financial consultant on a monthly basis to help us keep the business in check and guide us. Even when money was at its tightest, this was invaluable. You should always control the final decision but having solid advice from experts will give you a clearer picture of what's possible and how you can enact these ideas.
Our previous experience with a business downturn has given us an insight into the steps to take to tackle the crisis at hand. While I look back at that time as the single most stressful moment in my professional career, the lessons we learnt back then have shaped us into the business we are today. We take comfort in knowing that we took those hard lessons and they set us in a new direction for the business, and that survival experience has been worth its weight in gold these past few months.