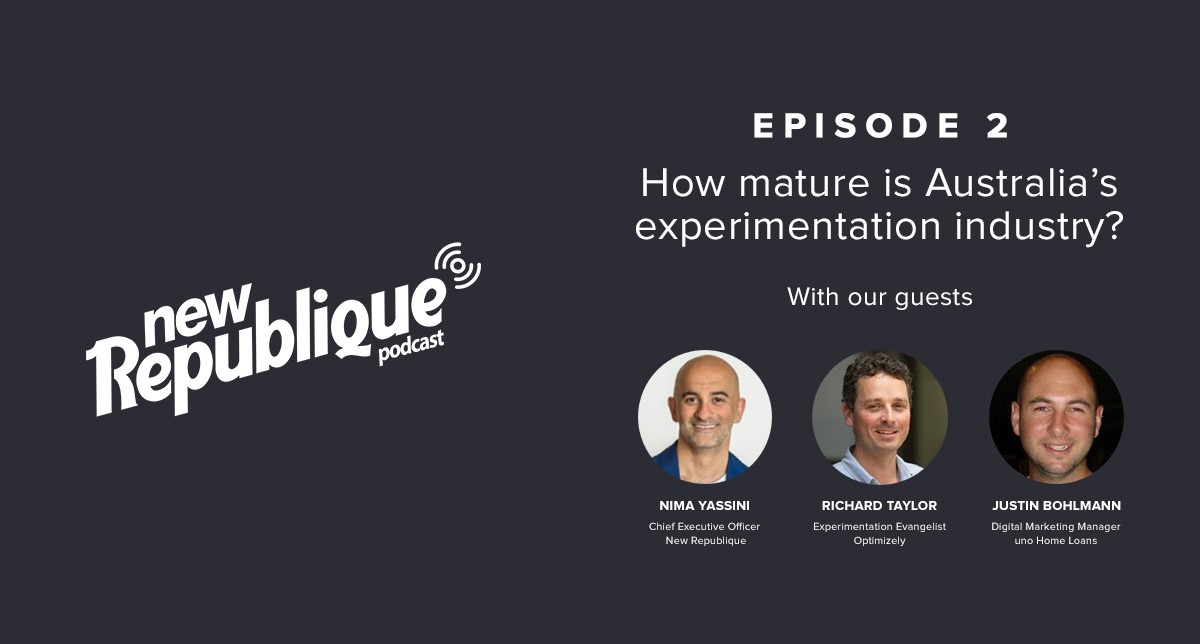 New Republique podcast – Episode 2: Key takeouts on experimentation maturity in Australia
Australian organisations have done well to recognise the value of experimentation in their marketing programs but beyond that its use is stagnant. The research bears this out: in The Australian Experimentation Maturity Index 2019, we found there were plenty of businesses using experimentation for acquisition and conversion rate optimisation (CRO), but little else.
In the first Episode of the New Republique podcast we talked about CRO, which is a popular way to introduce experimentation into an organisation. It often has clear goals and measurable outcomes so marketing executives are happy to invest in the skills and tools required for experiments. I have also written about the myths surrounding CRO – what it can and can't do for organisations, how it should and shouldn't be used.
Where Australia lags the forerunners in the world, however, is maturity outside the marketing suite. How can practitioners talk to organisations about experimentation outside of acquisition and conversion?
Beyond marketing
"In Australia, experimentation is delivering a fraction of the value that it could," says Richard Taylor of Optimizely. "The customer is where the value is. Retaining them, keeping them happy is far greater in terms of returns [than acquisition]. It is a constant point of frustration that organisations are not thinking, 'How do we broaden our programs?' They're satisfied, for some reason, keeping them just in the marketing space."
Part of the problem is the way we describe experimentation and its role within the organisation. It's easy to describe it in marketing terms because it gives business leaders a more concrete understanding of its effectiveness. But it means other parts of the business miss out on its benefits.
Justin Bohlmann is the Digital Marketing Manager at startup uno Home Loans. "I much prefer the term 'experimentation' than 'conversion rate optimisation'. Our loans core product that we just released recently is a really good example of that. It's an experiment to see whether that particular part of our platform is going to perform much better than the other parts of the platform. And we had nothing to 'optimise' because it didn't exist… the idea itself was an experiment."
"We kind of dug ourselves into that hole," Richard adds. "The experimentation that I think you're referring to, and I'm definitely referring to, is the more innovation-based experimentation. We're doing things for the first time and that is an experiment. I actually see this as a cultural transformation. It's a new way of making decisions and that causes all sorts of challenges within a business."
Real value
What needs to happen is a return to a foundational understanding of the triggers in the business, the areas where you create value and make money. When you map that, you can then see where experimentation will have the greatest influence.
"There are lots of different channels that someone could use to interact with you. [It's about] drawing those out and then seeing where is the largest area of pain or opportunity and then starting to think, 'how do we want to change that?' And then experiments support that motion," says Richard.
I also believe there a communication piece missing, a connection to what matters at board level.
If I had my time again, I would start with establishing buy-in at the top so that I could see what their priorities were and work backwards so experimentation was about business outcomes rather than marketing or website conversion, elevating the conversation more towards making statistically sound decisions. That way, experimentation would be part of an organisation's culture rather than a function of a particular department.
Real value often comes from true maturity and maturity is a twofold thing: diversity of experiments, because different experiment types will create different outcomes, and sharing the results across the business so that other departments can take on board lessons learnt.
Australia does well with CRO and marketing but experimentation as an organisation-wide mindset still has a way to go to embed itself in our way of doing business.
If you have finished reading this article and want to listen to the full podcast you can listen in via iTunes or Spotify
The New Republique Podcast launched in July 2019 and is Australia's first podcast dedicated to all things CRO (conversion rate optimisation), experimentation and personalisation.
If you are interested in being a guest or would like to suggest a topic for discussion please get in touch with me by commenting below or sending me an email at hello@newrepublique.com
About New Republique
New Republique is an award winning, experience optimisation consultancy specialising in brand, user experience design (UX) and conversion rate optimisation (CRO) strategies, to dramatically improve the performance of websites for brands like BMW Australia, Fantastic Furniture, Chemist Warehouse, HSBC, Employsure, General Pants, Bendigo Bank, Kogan, Retail Apparel Group and OFX.
In 2018 New Republique was awarded the Optimizely APAC Agency of the Year.