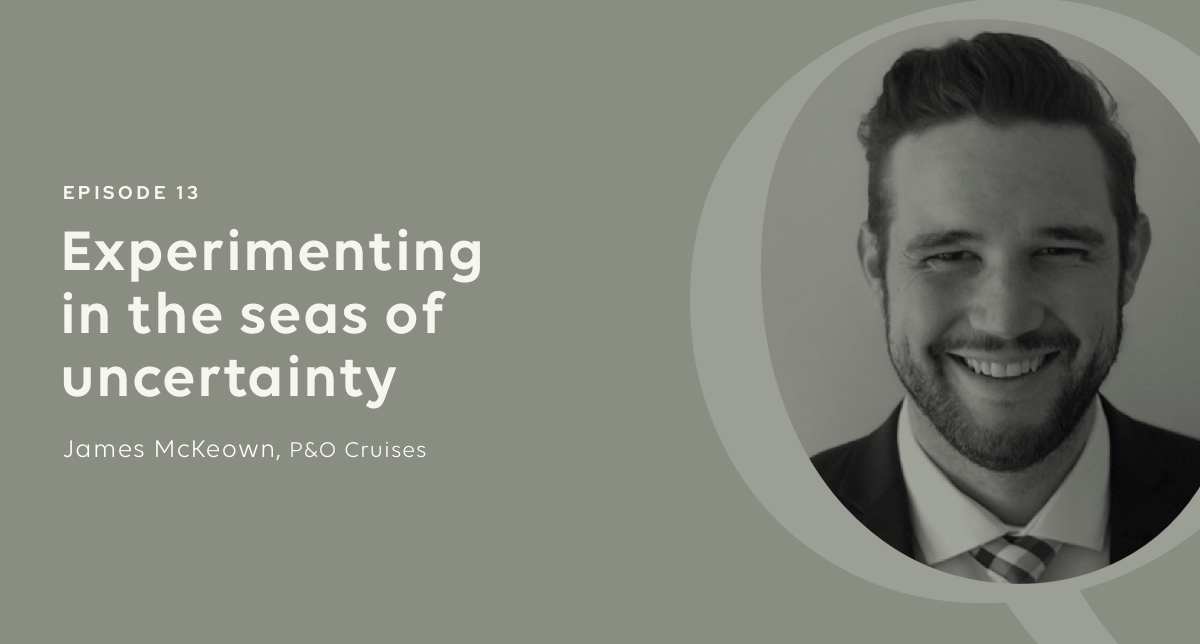 Podcast 13: Experimenting in the seas of uncertainty with James McKeown, P&O.
James McKeown (P&O Cruises) talks with Nima Yassini about how stormy COVID seas can in some circumstances offer an opportunity for the travel sector.   James shares the motivation behind P&O's decision to set up a digital experimentation programme, stop it and start again and offers advice for brand builders and digital leads looking to embark on their own digital transformation.
Listen to Episode 13 of Digital Growth Hacking (on Spotify or Apple Podcasts) to find out how P&O are set up as a team for experimentation and how the culture they have built has stood them in good stead as they navigate a rapidly evolving sector and customer.
Key takeaways from our chat with James:
'Keep moving the needle' to become a digital trendsetter…. 
"I like the idea of keeping up with industry trends but I love more the idea of setting industry trends."  Learning and keeping the needle moving continuously with smart CRO and experimentation ensures that we create opportunities of informed discovery.  Brands that experiment are more likely to set industry trends and not just follow them.
Build experimentation culture… 
"Number one, is ensuring that the team are aligned that this [the experimentation programme] is going to be a big thing for us."  
"It goes beyond running experiments", success doesn't come from "getting buy-in from the executive team in the business, when done well it's reach is company wide."  "It's not just for the digital team to state that these are the experiments I think we should run, it needs to go out to the entire business, because a website has many stakeholders and alternate perspective is so valuable to this process."
Democratise experimentation for all….. 
"One of the problems I have with a lot of these programmes is that the ideas are still centralised, namely in the experimentation or digital teams who have a tendency to become somewhat insular in what the challenges, solutions and current limitations are."  
"Sometimes the best idea, challenge or insight comes from the call centre team."  
"It doesn't matter which company you work for, there are marketing stakeholders, customer service stakeholders and product team stakeholders you need to speak everyone, especially the guys that are delivering what you're selling.  They've got views and opinions as well qnd they're probably just sitting on them a lot of the time, To tackle this we built working sessions over pizza (as everyone loves pizza) to ensure that we're understanding the customer experience from all sides of the business.  They're central to improving the customer experience and driving growth."
Lessons in the last 12 months….. 
"I'm going to be quite philosophical, but from a CRM point of view the first one is that change is really hard. You see people post on social media or LinkedIn and it's like embrace change and do this. And yet when change happens at such a large scale like this all we want to do is go back to the way it was. Embrace change."
Key questions to ask when looking for a digital transformation partner…. 
How will they find efficiencies in making sure you implement the things that are going to work rather than not going to work?
Look for a partner that, in my opinion, is challenging the status quo and getting you to think about the problem in a different way.
Where am I in my life cycle?  Am I ready to challenge what I think I know?
Approaching digital transformation…. 
We must be open, I think, open and vulnerable.
You don't just get there overnight. It's not like you wake up tomorrow, I'm ready to do care
Digital Growth Hacking is Australia's first podcast dedicated to all things experimentation, CRO (conversion rate optimisation) and personalisation.  Hosted by New Republique's CEO, Nima Yassini.   
Get in touch with topics or guest submissions at: hello@newrepublique.com
Listen via Apple Podcasts and Spotify