WHAT WE DO
UX/UI & Design validation
About our product
We believe in quick iterative design to deliver experiences that are useful, useable and desirable.
To deliver our UX product, we use a data-led, human centred and agile UX design approach in all our work. We utilise our propriety research process (MVR) to help identify the problem and quickly move into iterative concepts and prototypes to test our assumptions via a range of qualitative studies. Findings are are feedback into the iterative design process.
This iterative design approach brings both our clients and end users into the design process, ensuring everyone has an opportunity to input into the experience.
Our UX methodology is built on the premise of quick iterative designs.
Within our methodology we use 4 core principles:
Find the right problem
02
Design everything as a system
03
Utilising our MVR (Minimal Viable Research) methodology we study multiple qualitative and quantitative touch points to create a holistic view of the user, the problem we need to solve and develop personas and user journeys.
We move quickly to concept, wireframe and prototype the experience.
Prototypes are then tested through a range of qualitative studies to help validate and identify areas for further optimisation.
Our method is about continuous iterative design rollouts, that are validated by data.
User Experience design
Analytics and data analysis
Online surveys
Usability & SUS analysis
User research
Task modeling
Remote user testing
UX workshop
Card sorting & IA mapping
Contextual interviews
Shadowing
Call & blog jacking analysis
Heuristic analysis
In & out of category analysis
Data-led persona building
User Interface design
Sketch concepting
Detailed concept design
High fidelity wireframing
Prototyping
Paper prototyping
Form design
Storyboard development
Interaction design
Micro messaging
Design Validation
Usability & SUS testing
Remote user testing
Online IA validation
A/B & A/Bn testing
One-on-one user testing
Quantitative validation
Case Study
We helped HSBC with UX & UI
We work closely with HBSC in redefining the user experience across both the public and login environment. Our engagement has us redesigning a range of internet banking and website experiences to help increase product experience, security and uptake across current and new to bank customers.
Results:
– Redesign of 17 product experiences
– Increase of customer experiences
– Increase in online sales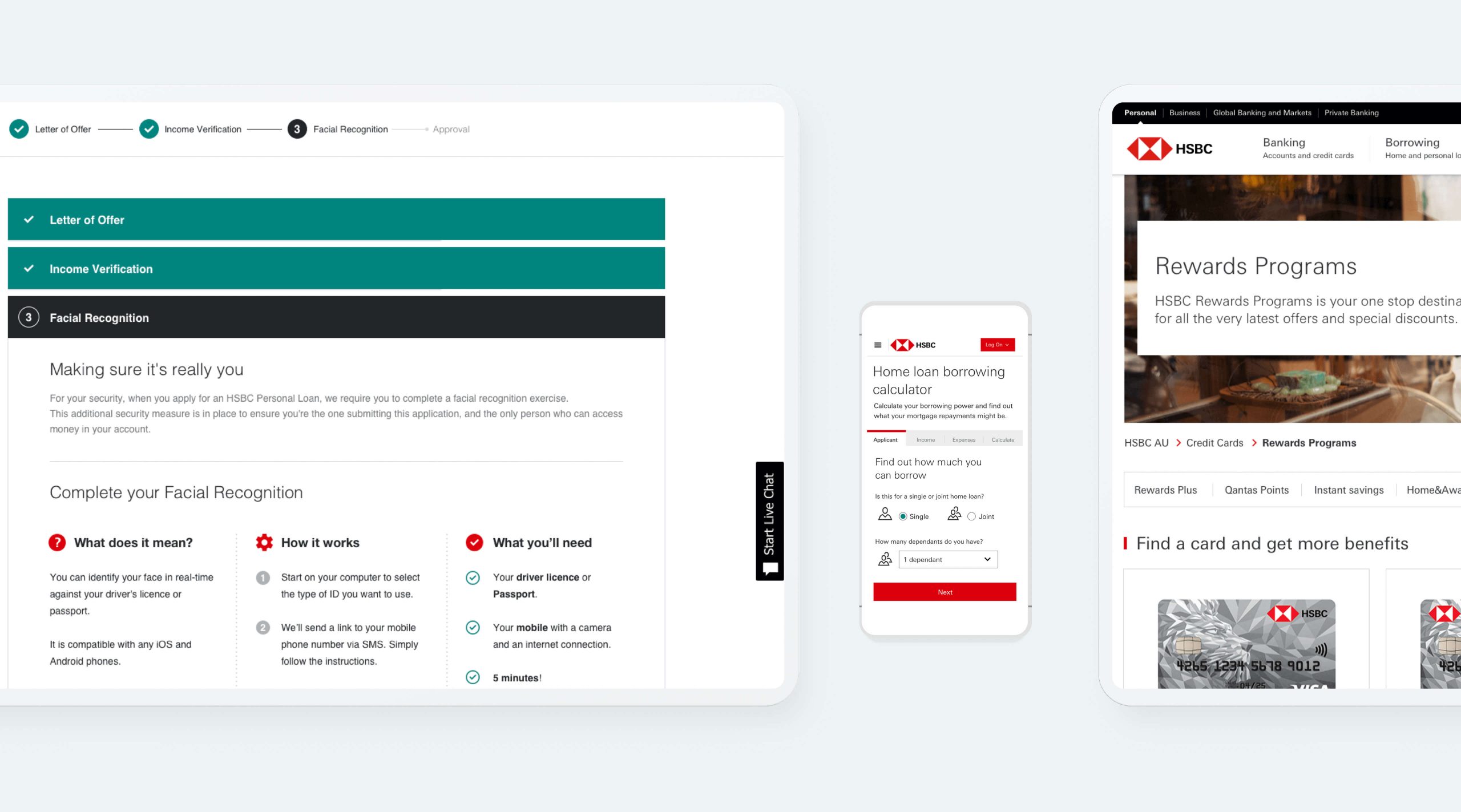 Always a pleasure to deal with. These guys are at the top of their game!
Our awards in UX and UI Design


W3 Awards Silver across 5 categories
2018

W3 Awards Gold & Best in show
2017