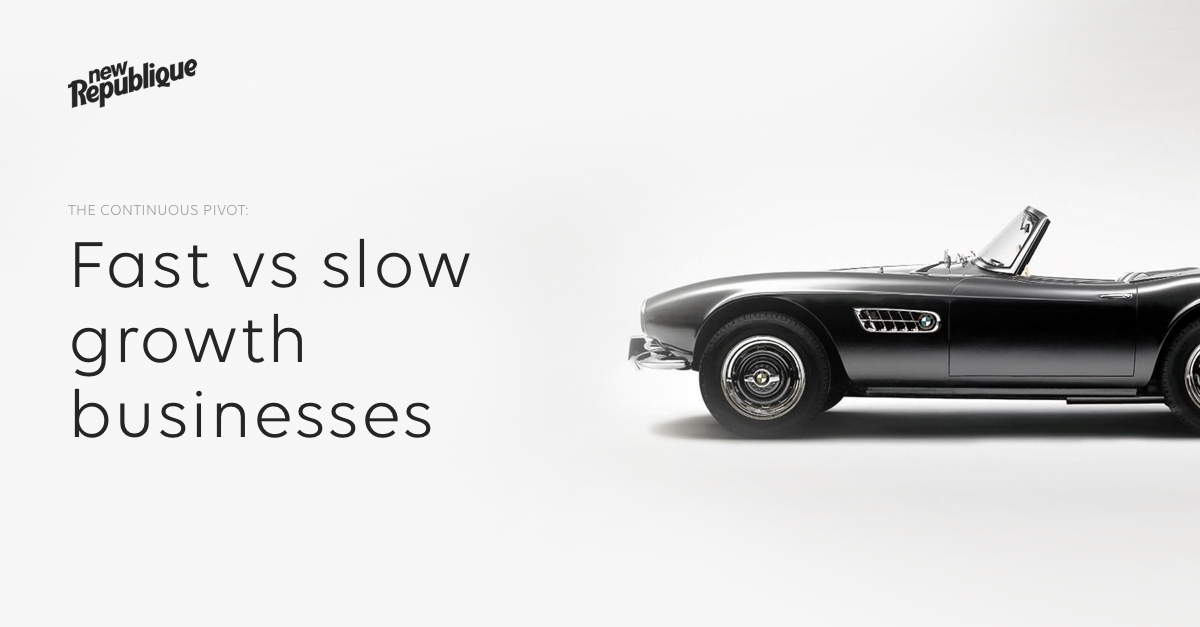 The continuous pivot: Fast vs slow growth businesses
Rapid disruption across all industries has exposed a flaw in traditional business structures: organisations that move too slowly will struggle to survive in an environment that changes fast. Developing a business that is adaptable and agile, that has the ability to mobilise fast data, pivot and evolve, is the only way to withstand and thrive in a time of dynamic change.
The problem is that, when faced with uncertainty, people tend to cling to what they know because it's comforting. But doing the same thing you've always done tricks you into thinking you have everything under control when in fact it embeds a way of operating that will simply not work in a new paradigm. Changing circumstances require adaptability and the best in the business are fast companies with digital products.
Unlearn traditional ways
To become a fast company you need to unlearn the things you thought you knew and embrace change. Most organisations will pivot once or twice every five years, and usually only in one department or segment of their business. Fast companies are built to pivot continuously and they achieve this by developing resilience to failure.
Being comfortable with failure is difficult, but the alternative is much worse: if you're not failing you're not trying different things, or if you're uncomfortable with failure, you're going to have a hard time when disruption upends the best-laid plans. Your team needs to embrace hypothesis-driven design methodologies that reward ideas and experimentation so you can create a cycle of hypothesis, testing, analysis, implementation and improvement.
Research has shown (see graph below) that organisations that have a culture of experimentation, that is a mature experimentation program, have a 750% growth rate compared to similar organisations that don't use experimentation as a standard business practice.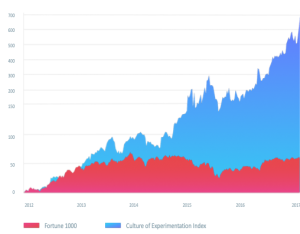 Source: Optimizely, 2017
This cycle – for all its agility – provides certainty at a time when the world is shifting. Experimentation is about creating a question that can then be tested and answered with good and up-to-date data. That certainty can save you from bad decisions that cost time, money and effort and/or provide you with a solid premise for creating a product or implementing a profitable feature.
A fin tech client of ours was able to test the implementation of a new feature. The test resulted to show that should they have implemented sales may have been impacted by 24%. This is only one of many examples where the ability to collect data to direct a pivot is critical to success.
The key to experimental product teams
The concept of a digital product is less than a decade old. Managing a digital asset involves a team of engineers who build features and functions. To hasten this process, production teams began to practise feature flagging, which is where they would mark changes to the product in case there was a problem with the release, then it would be easier for them to find the feature and roll it back if it didn't suit from a technical or customer experience perspective.
Because they were receptive to monitoring features, it was a short leap to then add a layer to this practice to measure a feature's effectiveness, whether it results in an uplift in conversions, for example. Web-based experimentation via server-side testing allows the product team to build features into a testing platform and measure their impact. This enables engineers to test an idea for a new feature and acquire data – control versus variant – before implementation.
It's this informed decision-making at the product development stage that gives fast companies the edge in a dynamic or volatile market. One day you might test whether a discount or an added value proposition converts a visitor into a customer, the next day there's a nationwide lockdown and suddenly you need to know whether free delivery or next-day delivery is more important for them.
We have a large fin tech business that has been hit hard and instead of locking down and hibernating that are quickly testing and pivoting their entire business model and product set. This style of pivot is the difference extinction and stay/survive/thrive.
Fast companies have built a methodology in which experimentation is part of the product roadmap. Slow companies, if they are doing experimentation at all, are running tests in pockets rather than centring experimentation as a core function. This is why product teams in fast companies have KPIs on conversions and customer retention – not just for lines of code – as well as profit and loss responsibilities.
Core experimentation in practice
We recently worked with a global financial FX company that is manoeuvring through a wholesale pivot in a short timeframe, shifting their brand proposition from providing one type of service to another. The main concern was to avoid alienating one kind of customer while trying to attract the other.
The process for product development involved designing features and variants that are tested, and then rejected or implemented. We worked in iterative cycles, agile sprints, where we designed something and gave it to them, they tested it as we moved on to the next thing and then the results from the test would come back and we would optimise it or move on.
The build process was fast and modular but allowed the brand to collect data that would help them find the balance between the two types of customers they were looking to capture.
Most organisations do not view experimentation as a fundamental core of the business, however it has become clear that the businesses that have a culture of experimentation are more responsive to change. In a time of upheaval, being hypothesis-driven and ready to embrace failure in order to learn allows you to find certainty so you can make informed decisions and be confident in your ability to adapt to and succeed in a changing environment.
Interested in your thoughts on this one so feel free to contact us at hello@newrepublique.com