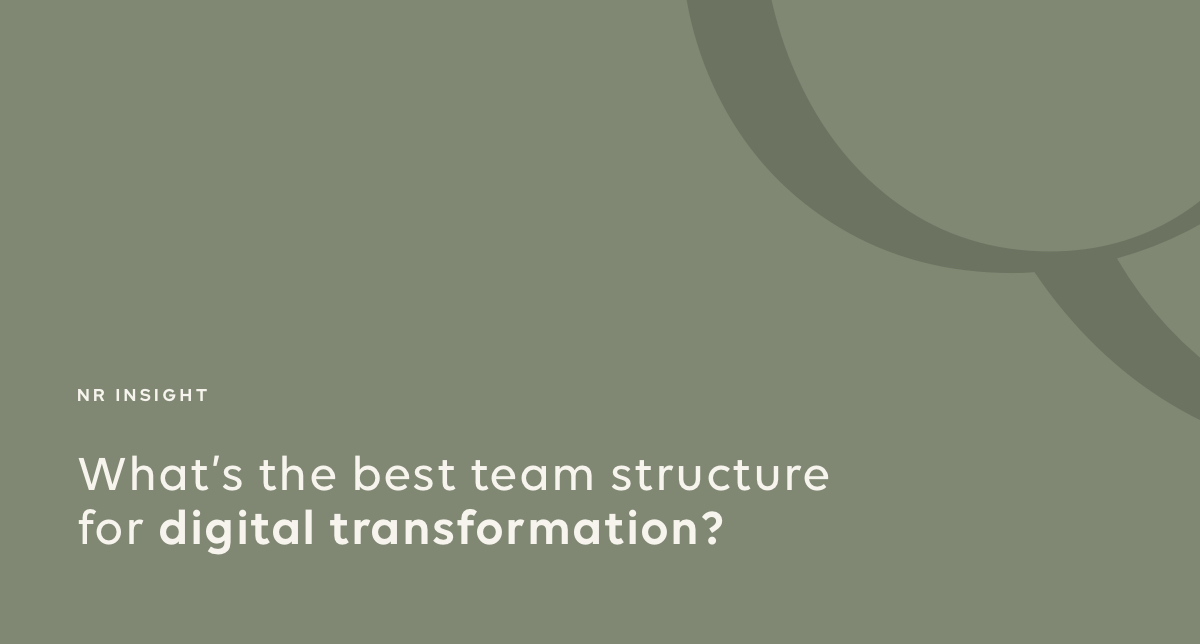 What's the best team structure for digital transformation?
Digital transformation has reshaped everything from business models to consumer behaviour. Here's how your team structure can enhance the outcomes of your digital channel.
In less than 12 months, consumers have shifted from accessing digital channels due to necessity to now seeking digital alternatives for convenience. 
According to a recent McKinsey report, "business respondents who indicate that at least 80 percent of their customer interactions are digital in nature have tripled compared to pre-COVID times."   Additionally, digital adoption programs have accelerated by up to seven years. The dramatic move by consumers towards digital channels has been a wake-up call for businesses that have lagged in this area, it is also a huge opportunity.
In the current environment of expedited change, businesses no longer have time to plan and implement digital transformation projects from start to finish. The traditional plan, test, change model (known as the Waterfall method) may have worked in an era when change and technology were more predictable, but today's volatility suggests that being able to validate and implement change quickly using data to minimise risk will be a key competitive advantage for online brands in such a dynamic market.  
But how should digital leaders organise their teams to capitalise on such an opportunity?
Speed to insight matters
Learn from the success of companies like Amazon and Google who's teams are built around an Agile-led cycle of continuous improvement and learning that offers data-led insights to identify opportunities for change. This process  minimises risks and provides quick validation for investment. While a Waterfall mindset works towards an output that will deliver an outcome, an Agile mindset focuses on an outcome and develops a suitable variety of outputs along the way. Allowing you to increase your experimentation velocity. 
You can't turn insight into speed to market without a team structure that works outcome-first rather than output-first, however. Form follows function, so validate the function first, then implement it.  When you're short of time, this style of data-led decision-making to validate the direction of the business means a lower barrier to innovation and a better return on investment.
A team for transformation
Iterative transformation requires guidance when businesses switch from a traditional structure. Businesses new to Agile-style processes often start by outsourcing to access the skills and capability of an experienced team. An effective version of this is insourcing, using the expertise of an established practitioner or team from an agency in the business to build capability from within. This is reflected in a centralised model where a team of specialists 'own' change in the business.
As with most change programs, when decentralisation occurs, iterative transformation can go two ways: the business adopts a culture of iterative change or, if done badly, it can encourage silos. Using someone experienced can help guide whole-of-business knowledge management to ensure lessons are shared among different teams.
The hybrid model
In our recent report, The Australian Maturity Index 2020 we found that digitally mature organisations, compared to developing organisations, were more likely to use decentralised teams (16% versus 10%) or a hybrid of centralised and decentralised teams (44% versus 32%).
A hybrid model allows the organisation to develop an internal centre of excellence to help drive, prioritise, and plan change in liaison with various stakeholders across the business while supplementing teams with expertise as they scale. The internal centre can assist with cross-functional and trans-departmental knowledge-sharing that then helps the whole organisation mature at a faster rate.
Switch to squads 
Iterative transformation requires a different team structure to most traditional business models, which stumps many organisations. In a traditional model, teams are split by department or function. What we're finding is organisations maximise their iterative transformation capability by developing squads that look after particular areas of the business that are not confined to department.
For example, a squad might look after different parts of a sales or marketing funnel, comprising a marketer, a web developer and a designer. The squad at the top at the funnel would connect to the squad at the middle of the funnel and so on. Each squad not only has ownership of their part but context for how they fit in with other squads. Squads may also be focused on particular features or functions of the product, or different parts of the product or sales lifecycle according to the priorities of the business.
How to accelerate change
Using experimentation in conjunction with iterative transformation provides the data-led validation businesses need to attain speed to insight. A partnership with people who know what they're doing, whether that's insourcing or a similar model, can accelerate the experimentation maturity within a business by boosting the skills, knowledge and experience within. With that comes confidence, which helps to trigger a cultural shift that has wider benefits. 
Organisations need digital transformation to survive, but many just don't know how. By having the right resources and experience in the room, partners can not only provide a stop-gap for skills shortage but create an accelerant to change.
About your digital transformation
Businesses no longer have time to plan and implement change from start to finish and must take an iterative approach.
Iterative transformation requires speed to insight; experimentation uses customer-centric data to inform decisions and validate the business' proposed direction.
Experimentation mitigates business risk; a data-driven approach enables businesses to test concepts, products and changes before heavy investment.
Iterative transformation requires new, effective cross-business squads.
Skills, knowledge and experience can be accelerated through a partnership model.
Download The Pulse Report to benchmark your organisation.